<![if !vml]>
<![endif]>
<![if !supportLists]>v <![endif]>Home
<![if !supportLists]>v <![endif]>About us
<![if !supportLists]>v <![endif]>Services
<![if !supportLists]>v <![endif]>Calendar
<![if !supportLists]>v <![endif]>Virtual Tour
<![if !supportLists]>v <![endif]>Healthy Church
<![if !supportLists]>v <![endif]>Fundraisers
Church Fundraisers
<![if !vml]>

<![endif]> 
An easy way to support our church while getting yourself a great deal! Please help support The Grove Street Christian Church, through a unique and simple internet ordering system. You may order quality Rada Cutlery kitchen knives, utensils, gift sets, soy candles and more, direct from the manufacturer at very low prices. This means that not only will you get a great deal on amazing products but that you will also be helping our church. To take advantage of this great opportunity and help our church, use our groups ordering # and password by logging onto the following website:
Internet Ordering #:    501361
Password:        grovest
Your order will be delivered to your address in 15 working days or less. Please know that your purchase also supports American workers and their families. Rada Cutlery has been proudly manufactured in America's Heartland since 1948! Any questions, contact Grace Dunker at 716-691-8447. begin_of_the_skype_highlighting end_of_the_skype_highlighting.
<![if !vml]>
<![endif]>
The cook book is here! You can get a copy of your very own for only $10.00. It has over 300 recipes and tips! See Doug Clark during church on Sunday to get one.                                                                                                                                                                                                                                                                                                                                                                                                                             
<![if !vml]>
<![endif]>
When you buy Tops gift cards, our church receives 5% of every dollar sold. The cards come in denominations of $10, $15, $20, $25, $50, $100. Barb Cook and Denise Bender are running this fundraiser. We will have cards at church each week. Payment can be made in cash or make check out to GSCC. Thanks!
<![if !vml]>

<![endif]>  
GoodSearch.com will give one cent to Grove St. Christan Church for every search made from their search engine. We hope that you will support our church by going there and list the charity you support as: Grove Street Christian Church and then follow all the computer language to do that.  Several at GSCC are now using this search engine already. The more the merrier. Thankyou.
Bottle Junction Redemption
1942 Colvin Boulevard, Tonawanda, NY 14150 (716) 834-1111
Bring in your bottles/cans and mention Grove Street Christian Church, and they will send the proceeds to our church. A great way to keep Gods, Earth green.
Chivetta's Chicken BBQ,        www.chiavettas.com
If it's March, its Chivetta's Chicken BBQ time at Grove Street Christian Church. Come to church for presale deals or by a ticket at the door and don't for get to check out the Basket Auction! A good meal, a great deal and a worthy cause.
Spaghetti Dinner
Every fall in October we have a delicious Spaghetti dinner with meatballs salad and a Basket raffle to boot, Join us for a night of food, fun & friends,
Church Donations
As always, you can donate a gift directly, any Sunday morning, at church during collection or by mailing a check or money order payable to:
<![if !vml]>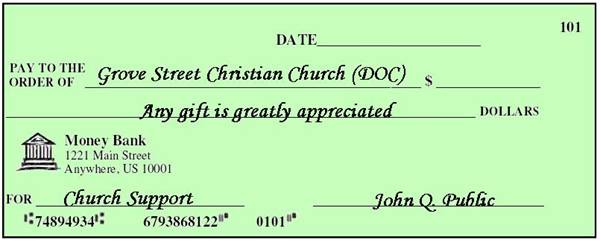 <![endif]>
Mail to:
Grove Street Christian Church
85 Grove Street
Tonawanda, NY 14150
Thank you for your support in helping us promote Gods work. Rev. Jim Girling & Church Members.
Grove Street Christian Church, 85 Grove Street, Tonawanda, NY 14150, 716-695-2446 Services are Sundays at 10:00am